Punk rock has probably been the single most powerful influence on my life. I grew up in Texas, in what was (at the time) a pretty small town. Reading liner notes, picking up zines or AK Press bookmobile books from shows, and finding political punk completely changed me. I devoured everything I could get my hands on, and ordered plenty of records blindly just because I knew they were political. I never really cared about fashion or "the scene"; what was most radical to me about punk rock was that some bands weren't just angry, they were articulating why they were angry and saying I had a right to feel that way, too.
When Old Lines approached me about working together on a project, we immediately were on the same page about all this, and started talking about records that influenced us. Stuff like the Man is the Bastard split with Mumia Abu-Jamal, Propagandhi's use of Noam Chomsky lectures in their song "The State Lottery," and the split 7″ I did with Rise Against, "The Eco-Terrorist In Me."
The guys from Old Lines proposed doing something a bit different, though, and I'm really proud with how it all turned out. We worked together from the start. I prepared my spoken word pieces to fit with their lyrics. We went to the studio together, and brainstormed how to make all the tracks flow together as one cohesive project. After I recorded my tracks, Matt brought out his guitar and started messing around with feedback and other ways to accompany the words. The track names changed to reflect that relationship between the songs and spoken word. At every step, we wanted to merge our work.
With that very long introduction said, I'm so excited to announce the release of "To Build a Fire."
You can listen to it below.
This isn't like any other spoken word I've done (and certainly not like my TED talks!) so I hope you like it.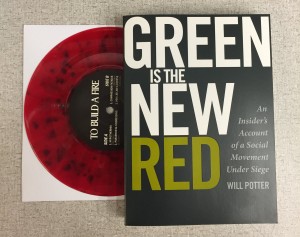 There are two editions of the record. One has black vinyl with a screenprint, and the other is a limited edition red vinyl with green splatter paint! So rad.
The covers are screen-printed by hand.
You can also get the digital download, t-shirts, and a special book package with a signed copy of Green Is The New Red here. 
We've already gotten some nice reviews.
From Dying Scene:
Baltimore's salty hardcore heroes Old Lines (founded by Mitch Roemer, formerly of Pulling Teeth and Ruiner) have teamed up with social activist Will Potter to release a split EP, To Build a Fire. Old Lines contribute two vicious new tunes that bookend the release, while Potter's contributions lay in the middle and consist of spoken word pieces that tackle complacency and normalization of loss of information privacy in the modern age.
From Blow The Scene:
The EP accomplishes what all good political punk music should…